ABRIAL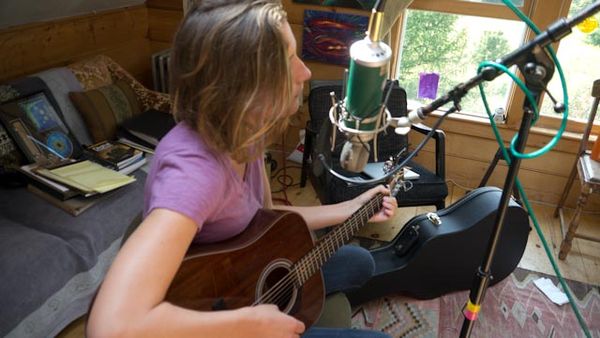 Described as "spellbinding," and "unflinchingly alive," Abrial's songs draw on a deep reservoir of feeling, articulated with revelatory precision and illustrated with rich imagery. Influenced by gospel, blues, folk and spiritual traditions from around the world, her songs speak to timeless themes of longing, love, hurt and forgiveness.
Abrial grew up singing all the time - church songs, walking songs, silly songs, working songs. She never intended to become a songwriter, and instead spent years working as a farmer, a carpenter and a community organizer before her songs caught up with her and demanded a stage. Her debut album Take Shelter recorded by Kristina Stykos at Pepperbox Studio in Chelsea, Vermont, with contributions from Grammy-winning producer Stuart Sikes at Big Orange Studios in Austin TX, was released on Thunder Ridge Records in 2014. The spare acoustic arrangements, accented by Dan Kaplan on harmonica, Kristina Stykos on electric guitar and Joshua Jude on the hand ocharina, tell the story of a spiritual journey that is both universal and deeply personal.
A wanderer by nature, Abrial honed her keen understanding of human nature over years spent on the road. She describes her travels as an attempt to strip away every artificial part of herself, to find what was still alive beneath the masks we put on to get through life. Seeking guidance at a turning point in her life, she picked Madrid off a departure board at JFK airport and flew there with $20 in her pocket and no plans. Walking out into the countryside, she slept under bridges, in church pews and in the houses of strangers, eventually finding her way to La Ruta de Plata, a pilgrimage route that winds through the heart of Spain. In that time, she says, "I really experienced how small I was, and how vulnerable, and it came home to me that humility is not a virtue, it's just a basic recognition of reality. I would sing to myself as I walked, and my songs became about searching for shelter, and seeking a relationship with that person who's hand I saw in the beauty that was just bursting out of the world all around me."
With a voice by turns raw and delicate, Abrial's searing observations and wry sense of humor guide the listener through depths of suffering and towards an even deeper experience of joy. "Singers like Chavela Vargas, La Caita, Concha Buika - they come from traditions where a song is not meant to fade into the background. It's meant to tell a story. It's meant to channel and give meaning to the intense currents of feeling that run through us. That's the kind of music that interests me."