THE COUSINS PROJECT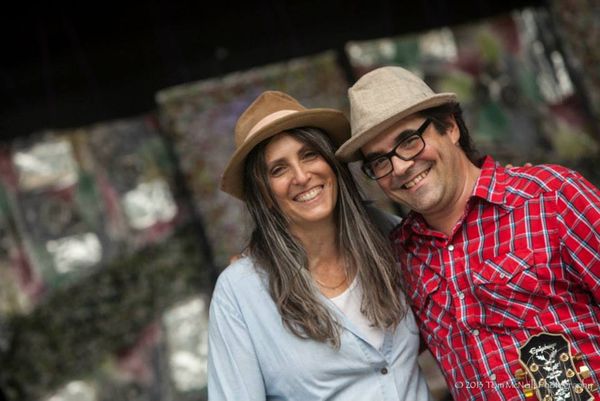 THE COUSINS PROJECT: Sweetness, grit and true Americana story-telling from established songwriters Kristina Stykos & Steve Mayone, who, after they discovered they were 2nd cousins joined forces to produce a gem of an album with their musical friends, some of Vermont's roots-rock all stars.
Beautiful Blood (Thunder Ridge Records 2013) is this duo's debut CD as The Cousins Project, featuring lush guitar picking and arrangements from each of them, great fiddle work by patrick ross, and swampy drumming from jeff berlin. Songs of struggle, redemption and family, written and recorded on a mountaintop in Vermont. 
Steve Mayone and Kristina Stykos are second cousins... but they didn't know that until a few years ago. They lived parallel lives: songwriters, producers, independent artists. In 2006 they met by chance when Steve (who lives in Brooklyn) was playing a gig in Vermont (where Kristina lives) with his buddy bow thayer. Upon hearing Steve's last name announced from the stage, Kristina introduced herself and they discovered their grandparents were siblings.
In the first half of the 20th century, the Mayones were busy brick makers, shipping bricks down the Hudson River where they were used to build such iconic structures in New York City as the Empire State Building and the Chrysler Building. Then the company collapsed, and families scattered.
Making up for lost time, Steve and Kristina began playing music together, resulting in their new album "Beautiful Blood". As Steve said "making the album was a way to spend time together and get to know each other, musically and personally". Look for a new Cousins Project album in 2020!