BRIAN CLARK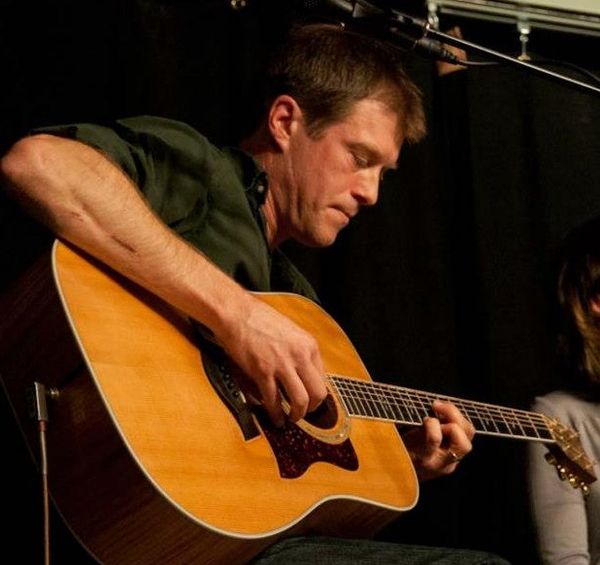 Brian Clark is a Vermont-based guitarist, songwriter and side musician for a variety of Central Vermont artists and has appeared on records with with Kris Gruen, Jay Ekis, Lizzy Mandell and Kristina Stykos.  He makes his home in Calais, VT with his wife and two children.
His first release solo duo trio (2010) on Thunder Ridge Records provides a shining tour of Brian's intelligent musicality, featuring finely crafted finger-style instrumentals back-to-back with indie rock songs in a superb blend of acoustic and electric sounds. With contributions on several tracks from Jay Ekis on electric guitar and Mike Donofrio on bass, the album makes a soulful exploration of tone and chord voicings for acoustic guitar, without ever losing its primary focus on the song as artful messenger.
Brian's band Anachronist's 2012 ep release Row on State and Main Records again features Brian's rich lead vocals and solid song-smithing; a decidedly bigger rock sound this time around with all same dedication to great story-telling.
Here's what Dan Bolles, Music Editor of the Vermont weekly "Seven Days" said:
"If you're a relatively savvy fan of local music, you've probably heard Brian Clark. The Calais-based guitarist has lent his considerable talents to numerous projects by such notable central Vermont songwriters as Jay Ekis and Kris Gruen, among others. But with Solo Duo Trio, the longtime sideman steps out from the shadows and into the spotlight himself. It's an intimate and humble offering, and long overdue...
Brian Clark's solo debut is impressive for a variety of reasons: solid songwriting, excellent instrumental performances, homespun charm. But what is really remarkable about the record is the tactful humility he employs throughout. It's almost as though the longtime sideman takes a backseat to his own music. The result, of course, is a gripping collection of tunes that belongs on the shelf alongside any album he's previously helped create."